Get Ready for Bloggy Olympics!!!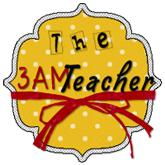 Join The 3AM Teacher, the Reading Olympians, and over 80 SUPREME education bloggers as we take you through a tour of the Reading Olympians Root Study Program!!
I was very excited to participate in this project! When I received my email with all of the information and materials I was even more excited! I knew from looking through the materials my kids would also LOVE this unit. I actually couldn't sleep that night, I had so many ideas running through my mind on how I would introduce Reading Olympics, how I would teach it, etc.
I had been out the week prior due to my back injury and was excited to have something new to introduce to my kids. I explained the unit to them Monday morning and had several excited students. Teaching prefixes and suffixes is a part of our curriculum so this was easy to add to our daily lessons.
Monday: Students made their index cards with the rap and root. Side note: I quickly realized we need to practice our cutting skills!
Wednesday: Students began working in their Nike Journals. I did have difficulty myself with finding words with some of the roots that my 4th graders would see in some of their text. I tried to find a minimum of two words per root.
Friday: My TA completed our Reading Olympics board to display students' progress. I really like the idea of the id tags and plan to use them next year.
Monday & Tuesday: I used the suggestion of teaching the Nike set and routines over a two week period. Monday and Tuesday before our break students continued to work on their Nike Journal and practice their root raps.
Thursday: Assessment Day. We had a half day this day, it was our first day of Spring Break, and I had several students out absent. I gave students a few minutes to practice their roots with a partner and then gave them the assessment.
My students LOVED receiving a certificate when they passed their Nike assessment. I love that it only requires them to get and 80% or above to pass. Teaching an Exceptional Children's cluster class this really helps them feel success!
I used blank labels and wrote "NIKE" in orange to place on the columns for students who passed.
My students really enjoy this unit and I plan to continue using it the remainder of the school year. It was great when my students would point out a word in a book or text when they saw a root we had been working on. I really like that students work at their own pace.
Discover the program IN ACTION in more K-6th grade classrooms as you Pass the Torch!! Get ideas, discover the progression of the program, and enter the Raffle for a chance to win ONE of the three prizes listed below!!
First Place Winner : Gold Medal
Prizes: Complete Reading Olympians Program
$50.00 Amazon Gift Card
50% off Discount Code for a 1-Day shopping spree at The 3AM Teacher's Etsy store!
Second Place Winner: Silver Medal
Prizes: $25.00 Amazon Gift Card
40% off Discount Code for a 1-Day shopping spree at The 3AM Teacher's Etsy store!
Third Place Winner: Bronze Medal
Prizes: 30% off Discount Code for a 1-Day shopping spree at The 3AM Teacher's Etsy store!
Pass the Torch!!!
Click the image below to visit the next blog
Kindergarten:
Grade 1 & 2
Grade 3 & 4
Grade 5 & 6
a Rafflecopter giveaway