Do you have a snow day today? We are on our second snow day and I am secretly hoping for another one tomorrow! There is no better way to spend a snow day than reading teaching blogs and checking out Pinterest for new fun ideas and lessons to use when we go back. Today I am linking up with my friend Jivey for her Workshop Wednesday.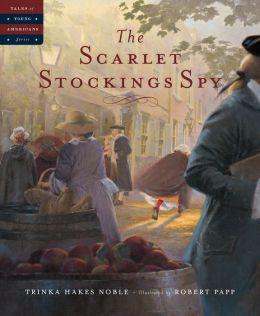 I wanted to show pictures of my students starting our Historical Fiction unit, but due to the snow we only got through the first day. If you teach the American Revolution or a Historical Fiction Unit I hope you have The Scarlet Stockings Spy in your collection of resources.
I discovered this book from my BBB's and other teachers at my school. The story is a tale about a little girl, Maddy Rose, who helps spy for Washington's army. Maddy Rose uses her clothesline, wash, and scarlet stockings to help send messages to her brother Jonathan, who is a 15 year old soldier. The Scarlet Stockings Spy is a wonderful story about loyalty, patriotism, and an emotional tale of the American Revolution.
I start my Historical Fiction unit by going over what Historical Fiction Text are. We also reviewed the American Revolution using online resources. Since we are just starting this unit we haven't discussed many of the major events, but I knew my students had some prior knowledge because of what they were taught in third grade. We watched a Youtube video and a Brain Pop video. Later in the unit we will watch Liberty Kids videos as well.
As I read aloud The Scarlet Stockings Spy my students completed the Historical Fiction sheet. We discussed their answer as I read and after I read aloud. It was a amazing to watch them work hard in the beginning of the story, but once I reached the climax of the story their pencils stopped and they sat there listening intently, waiting to see what would happen next. I LOVE when I find a story they all enjoy!
Since I am unable to share more of how we use this unit in my class I am sharing my suggested lesson plan. I link I am going to switch days three and four, because my students were already picking up on Maddy Rose's character traits as I was reading on Monday.
I created a Smart Board file to go along with this unit, and have included it in the product. For those who do not have a Smart Board I also have the unit available without the SB file. The SB file follows the suggested lesson plan, includes images of the sheets making it easy to go over with students, links to the videos for day one, and interactive games.
1. Pin the Area & Perimeter Pack image above on Pinterest.
2. Leave a comment with your email and the URL after you have pinned the image in your comment.
I will choose a winner Friday the 31st using a random number generator. Good Luck and thanks for entering!
Don't forget to "
Follow The Trail
" to enter a chance to win 14 products and a $25 TpT gift card!